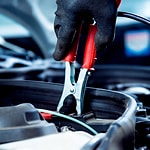 The cold winter weather can wreak havoc on a car battery. The loss of power may be enough to prevent your vehicle from starting in the morning. We at Sill-TerHar Mazda never want you to have this experience, so here are a few battery charging tips.
The first thing you need to do is make sure all of the electronics in the car are turned off. This includes the radio, lights and heating system. Get the battery ready by cleaning the terminals. Make sure the charger is turned off before connecting it to the positive and negative leads on the car battery.
Once the cables are connected, you will then turn on the battery charger. It may take up to 12 hours before the battery is fully charged. Power off the charger before removing the cables. You are now free to drive around Broomfield, CO with your newly charged battery.