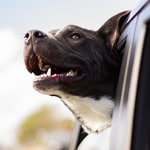 When you're on vacation, you don't want your pet to have a medical emergency. Unfortunately, your pet can suffer heatstroke or another medical emergency when you're away from Broomfield, CO. At Sill-TerHar Mazda, we wish your pet healthy travels but want you to be prepared in case of a pet medical emergency while traveling.
Since many trips are in the summer, pets are at increased risk for heatstroke. Symptoms of heatstroke can include:
Breathing changes like heavy panting or fast, shallow breathing
Excess salivation or vomiting
Purple or dark red tongue or gums
Glassy eyes or listless expression
Body temperature greater than 103 degrees Fahrenheit or animal feels unusually hot to the touch
If your pet has heatstroke symptoms, take them to the nearest emergency pet hospital or shelter for care. As you travel for care, apply cool compresses to your pet's head and neck, shade them from the sun and offer them some water.