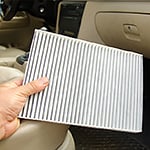 Everyone in Broomfield, CO knows that vehicle upkeep is important for proper performance and safety. Your car's cabin and engine air filters are no different, and here at Sill-TerHar Mazda, we want to give you the proper insight on how to care for these components. Let's take a look at what you need to know about managing your car's air quality.
As the name would suggest, engine air filters are focused on the air within your engine. It prevents debris, small rocks, and other environmental irritants from entering your engine. Cabin filters provide clean air for your interior, delivering clean air to both drivers and passengers.
The lifespan of your filters can vary, and you want to be mindful of when you should replace them. Harsher driving conditions can mean that you replace them more often, so be aware if you are driving in dense smog or off-road terrain. Both filters usually require replacement after 30,000 miles.