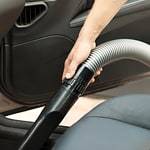 After leaving Sill-TerHar Mazda with a vehicle, you want to make sure that it remains looking good for as long as possible. If you have a pet, you can be certain that cleaning up pet hair will be a significant portion of your car detailing experience. Follow these tips to make pet hair removal less strenuous.
Try to prevent pet hair from getting all over your vehicle in the first place. To best prevent your vehicle from getting covered in pet hair, brush the animal before letting it into the vehicle. Also using seat covers can make detailing easier because they can be removed and washed.
Car detailing in Broomfield, CO can also be easier by using lint rollers or handheld vacuums. Lint rollers are very affordable but may not adequately remove all of the hair that gets into small crevices. For this job, you may need a special dog hair remover brush to remove all of the pet hair.