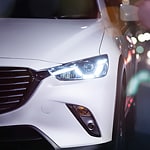 If you're in the market shopping for an affordable SUV that has all of the upscale features, then the Mazda CX-3 could be one of your best options. Some luxury options offered by the CX-3 include push-button start, adaptive headlights, forward collision mitigation, and an innovative entertainment system.
In addition to the vehicle's luxury features, the CX-3 is very stylish. The exterior of the CX-3 has an attractive silhouette. The vehicle has sporty 18-inch wheels, significant cargo space, and a large engine.
One engine is offered to drivers of the CX-3. But this engine is so powerful that it is truly the only engine that CX-3 drivers will need. As a driver of the CX-3, you can engine a 2.0-liter engine that is four cylinders. This engine has a torque of 146 lb.-ft and a horsepower of 146 lb.-ft. The Mazda CX-3 is something worth getting excited about!